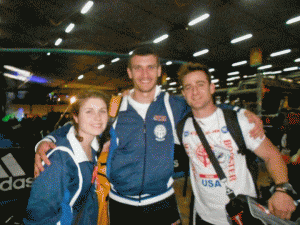 Lonnie, Keith, and Sami Heading home after winning gold and silver!
This years WKA United States National Team traveled to Cararra, Italy in the region of Tuscany last week to compete in the 2013 World Amateur Kickboxing Championship.
This years team was one of the most successful teams to date. Together, the team brought home 29 gold, 14 silver, and 2 bronze medals, with team members competing in K-1, Muay Thai, Full Contact, Low Kick, Full Rules Muay Thai, MMA, and Submission Wrestling.
On the US National Team were two local fighters who train at the Dragon Gym in Exton, Pa. Sami Rice is a sixteen year old student at Owen J. Roberts High School. Sami fought her way to a second place silver medal in the -65kg division and fought a magnificent finals match against an opponent from France.
Keith Coleman is a graduate of Downingtown East High School and is currently working toward his Master's Degree in Exercise Physiology at West Chester University. Keith has an extensive amateur fighting career which earned him a spot on this years US National Team. This year Keith left the international tournament as the World Champion in Muay Thai Kickboxing in his division.
Along with Sami and Keith, Lonnie Beck (owner of the Dragon Gym) was selected as a member of the US National Team coaching staff and traveled with the team to Italy. Lonnie was born and raised in Downingtown, Pa and now lives in West Chester with his fiancee Gabriela.
This was one of the largest competitions that the US Team has gone to. This year there were 78 countries represented at the tournament with 3 full days of competition.
This years team was not only one of the most talented teams, but they also exhibited a great sense of team unity and national pride. There was a great mix of junior to adult competitors and female to male competitors. Everyone pitched in to help each other, whether it was in team training sessions, pre-fight warm-ups to event some finals which pitted US vs. US team members fighting out for the gold and silver.