FEEL 
THE HEAT!! POWER YOGA is at the DRAGON GYM in Exton PA!!
What is 
Power Yoga?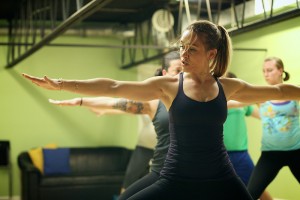 Vinyasa flow or power yoga is a great way to stretch and strengthen the body.  Power Yoga focuses on the victorious breath and flowing from pose to pose.  The heat is on in the studio during class, but is not to be confused with Bikram Yoga or "hot Yoga". Heat provides your muscles with the ability to move more freely and stretch out your body.
Vinyasa is further broken down into a variety of styles that focus on inhaling and exhaling while performing parts of sequences at a fast, smooth pace.  A common misconception of yoga is that you need to be flexible.  You Don't! Most people who start yoga are not!
Yoga increases flexibility at your own pace.  Moving at your own skill level, whether beginner or advanced is the key to a successful practice.  Come feel the heat!
Yoga of any kind can provide essential benefits to your mind and body.  Not only can you see results physically, but your stress level and mental health can benefit as well.
Not sure if this type of yoga is for you?
Enjoy your first session FREE with no obligation.
Email Shannon to get started.
How You can Benefit From Power Yoga
Increase Muscle Strength and Tone
Improve Flexibility and Joint Health
Eliminate Stress and Tension
Correct Posture and Stance
Relax the Mind and Body
Where?  The Dragon Gym 267 S. Whitford Road Exton PA 19431
When?  Yoga Basics: Mondays at 7PM
All Levels: Tuesdays and Thursdays at 7PM and Saturdays at 8AM
What to bring?   Yourself!!!   A yoga mat, towel, and water.
How do you get started?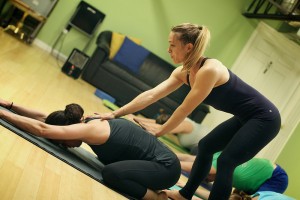 All new students start the same way, with a Free, No Obligation Trial of our Yoga Basics Class. It is great for beginners with no prior experience. After the Yoga Basics trial class, students enroll into our Quick Start program which includes small group instruction so that students can try out the program in a suitable environment. One of the great things about this program is that it gives us a chance to meet you and assess your abilities while giving you the opportunity to observe classes, see the facility, meet the instructors, and learn about the benefits of our yoga program. Contact us today about getting started and schedule your first lesson!
About the 
Instructor:
Shannon LaSpina has been practicing Power yoga for over 5 years.  She took her first class here at the Dragon Gym in 2008.  After the first class she became dedicated to her yoga practice.   She is also a certified Killing it with Kettlebells (KIWK) Level 1 Instructor.  Aside from her time in the yoga studio, Shannon spend 9 months of the year teaching art to middle school students.
The yoga program at the Dragon Gym specializes in Power Vinyasa flow. In a semi private setting instructor Shannon LaSpina Audet RYT 200 guides the students to link movement and breath. Classes are smaller in size to ensure all students are receiving individualized attention on and off their mats. Housed in a martial arts studio, power yoga compliments and respects other programs at the gym. These classes are for all levels, ages and body types. At Dragon Gym, our yoga program helps build physical and mental strength for a less stressful lifestyle.